Locking up quarterback
Tony Romo
to a new extension remains important to the
Dallas Cowboys
not only for the immediate salary cap relief, but also for ensuring the long-term health of the game's most important position.
Talks to accomplish such a deal appear to be heating up.
Owner and general manager Jerry Jones said Tuesday at the NFL Owner's Meetings that Cowboys fans need not worry about how close the two sides are to agreeing to the extension,
via Clarence Hill
of the
Fort Worth Star-Telegram:
Probably what concerns them about a timetable is the fact that they don't know that it won't be weeks out...But I'm not concerned that we are looking at a drawn out thing here. I'm not concerned that is going to in any way hamper any decision we want to make personnel wise over the next few weeks.
Asked to elaborate on if his statement meant the Cowboys were close to a deal with Romo, Jones said, "I'm okay with [saying] that."
Jones knows that getting an extension completed with Romo remains the Cowboys' top offseason priority.
Romo's current cap number of $16.8 million in 2013 ($11.5 million base, $5.3 prorated signing bonus) continues to restrict what Dallas can do to improve a roster that finished 8-8 last season. According to Hill, the Cowboys have just $102,000 in cap space for 2013, the lowest remaining in the NFL.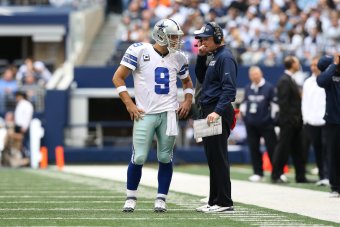 USA TODAY Sports
Restructuring Romo could potentially save millions on the cap and allow Jones to both pursue other free agents and eventually sign draft picks. Dallas simply doesn't have the money to do either as it currently stands.
The continuing battle against the salary cap has kept the Cowboys quieter than usual this offseason.
However, Romo's extension goes beyond just money.
Locking up the 32-year-old quarterback ensures the Cowboys have a more-than-capable player at the game's most important position for the foreseeable future.
Romo, who will enter his seventh season in Dallas as the unquestioned starter, threw for a career-high 4,903 yards in 2012. He also tossed 28 touchdowns, the fifth time he has thrown at least 25 in a season.
Maybe more importantly, Romo finished with a passer rating over 90.0 (90.5) for the seventh consecutive season, despite facing as much pressure as any NFL quarterback.
Continue Reading >>>